Persuasive Technology Conference 2017
06-04-2017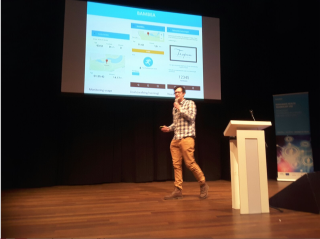 Van 3- 6 april 2017 vond de Persuasive Technology conference plaats, met als thema 'Smart Monitoring and Persuasive Coaching'.
Digital Life onderzoekers Joey van der Bie en Sumit Mehra presenteerden op beiden een abstract tijdens het symposium 'Tailored interactive technology for a healthy lifestyle' dat geleid werd door Marije Baart de la Faille - Deutekom.
Keynote speaches werden verzorgd door
Prof. Andrea Gaggioli, PhD, (Positive Technology: Designing Digital Experiences for Positive Change), en door Prof. Dirk Helbing (Persuasive Computing: From Marketing to Mind Control, from Filter Bubbles to Fake News).
Het congres was design georienteerd, dit kwam ook naar voren in de poster sessies waarin veel verkenningen naar ontwerpen voor persuasive producten werden getoond.